Post by Focus on Mar 4, 2013 12:38:18 GMT
The financial crash and plummeting property market struck Spain with a high eviction rate and a rash of empty houses. Now victims of the crisis are fighting back by setting up home in a network of vacant buildings.
"Life changes when you lose everything," says Manoli Cortés. "There was a time when I was happy just to work and look after my home. Now, at the age of 65, I have suddenly become an activist." She is sitting in a typical Spanish living room: immaculately clean, filled with family photographs and dark wood furniture. Meanwhile, with its crisp, geometric lines, sliding French doors and private balconies, the exterior of her building looks much like any other newly built urban apartment block.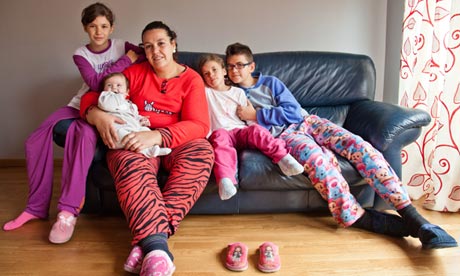 Raquel Machuca, 30, with her children: 'The government is doing nothing to help us
Look a little closer, though, and a different story is told. The afternoon sun shines down on concrete walls adorned with spraypainted banners and stencilled slogans, the most revealing of which reads: "Ni gente sin casa, ni casas sin gente" (No people without houses, no houses without people). This is Corrala Utopía, the first in a growing network of previously vacant properties in the Andalusian capital of Seville now occupied by victims of Spain's ongoing economic crisis.
Like much of the rest of the country, Andalusia experienced a building boom at the turn of the millennium. Locals took jobs as bricklayers, painters, carpenters, contract cleaners, and property values rose. But in 2008 the global financial crash brought this cycle to an abrupt end, leaving huge numbers unemployed and, after punishing cuts to social welfare, struggling to keep roofs over their heads.
In 2010 Spanish banks foreclosed on more than 100,000 households. Macarena, the district of Seville in which Corrala Utopía stands, now has the highest eviction-rate in the city. Yet in Seville's greater metropolitan area alone an estimated 130,000 unsellable, unrentable homes are lying empty.
Toñi Rodriguez, 44, left her home voluntarily last year. "I was unable to pay my rent and was being taken to court. I didn't want to build up any more debt. I was living on the street, sleeping in my car. Back then the people from 15-M [the grassroots community activist group that rose to international prominence during the 2011 Indignados protests] were holding public assemblies in a square every day. A friend said that they might be able to help me," she explains.
Together they came up with a simple solution. "We began to talk about the possibility of taking over vacant buildings," she says. "We spent four months planning before we did anything and I was very afraid of what might happen to us. I didn't know whether we would be allowed to stay or if we would be arrested."
Eventually, a block of flats owned by the troubled construction company Maexpa was selected. With a group of women in similar situations, Rodriguez entered the building on 14 May 2012. Now a total of 36 families have made it their home, among them 40 children and several elderly people.
So far their future appears safe. Maexpa is now mired in bankruptcy proceedings. The current owner of the building, the Zaragoza-based bank Ibercaja, has entered into a series of negotiations with the corrala's inhabitants and local support is strong. However, life there remains challenging. Just two weeks after the community was established, its electricity was cut off and shortly after, despite an application for collective billing, its water supply disconnected. Now residents have to use a public standpipe.
In recent weeks four more corralas have been established in smaller towns in Andalusia and another in the city of Málaga, where the unemployment statistics and the number of empty houses are even higher than in Seville. These come in addition to the five communitiesthat now exist in the city, ranging in size from five to 18 families. In late January Corrala Libertad, a community of seven apartments in the district of Triana, was granted legal rights to operate as a housingcooperative.
For the occupants of Corrala Utopía, who received an award from theAsociación Pro-Derechos Humana De Andalucia (Human Rights Association of Andalucia) in December last year, these developments are encouraging.
Ana Lopez, 67, is one of the community's oldest members. She lives with her 71-year-old husband Pancho, a former flamenco dancer, who has in the last few years had three heart attacks, undergone a bypass operation and suffered complications related to asthma and diabetes. Despite his ill health, the couple were evicted from their home last year after falling into mortgage arrears. Before moving into the corrala they spent several weeks sleeping in the lobby of their former building.
"I have grandchildren," she says. "When I die I would like to be able to say to myself that they will have jobs, homes and a happy life. Thecorralas are important. They set an example to people who are struggling. They show that we can help ourselves and each other. I don't know what the future will hold for any of us, but one way or another I believe that this will be a successful fight. I have to, otherwise I wouldn't be able to sleep at night" -- Well way to go, well done and bloody good luck to you!!
Fx