Post by Focus on Jul 27, 2013 8:54:09 GMT
Belmarsh guards continually threaten the Woolwich murder suspect, claims brother.
Woolwich murder suspect Michael Adebolajo has been targeted repeatedly by prison guards and was denied urgent medical treatment in the wake of last week's attack in which he lost two teeth, his brother has alleged.
Michael Adebolajo faces trial in November for the murder of Fusilier Lee Rigby
In an interview with the Observer, Jeremiah Adebolajo revealed that his 28-year-old elder brother had been subject to numerous "hostile" incidents involving staff since he arrived at Belmarsh, one of the country's top-security jails, two months ago. He said that although Adebolajo did not want to highlight the frequency of abuse he had been subject to, last Wednesday's alleged assault had changed the family's stance, highlighting their concern that Adebolajo did not feel safe inside the jail.
Five prison officers have been suspended following the attack which relatives claim was unprovoked and occurred while Adebolajo was restrained. However, there is no evidence that guards involved in other alleged incidents against Adebolajo, charged with the murder of Fusilier Lee Rigby in Woolwich in May, are the same individuals as those sent home on full pay.
Following last Wednesday's alleged assault Jeremiah claimed that a senior prison official had told him that Adebolajo did not receive urgent medical care in its aftermath. The 26-year-old said: "By the time he did receive medical care it was too late to put in the teeth. He has been targeted since he arrived there. We have written correspondence, and I speak to him every day, which details the fact that certain guards were hostile.
"They were always implying they were waiting for the opportunity to do him over, basically. These guys targeted him. All I can say – and this is a direct quote from my brother – is that they have been very hostile towards him."
Jeremiah confirmed that practically all the hostility had come from guards. "You need to understand he's in solitary confinement, category A. There's no other chance of a prisoner being involved. He's not even allowed to go to Friday prayers, he's not had a single family visit – they've made it very difficult having correspondence with him," he said.
Jeremiah said he had lodged a formal complaint with his lawyers over treatment of his brother.
Murdered, Lee 'Drummer' Rigby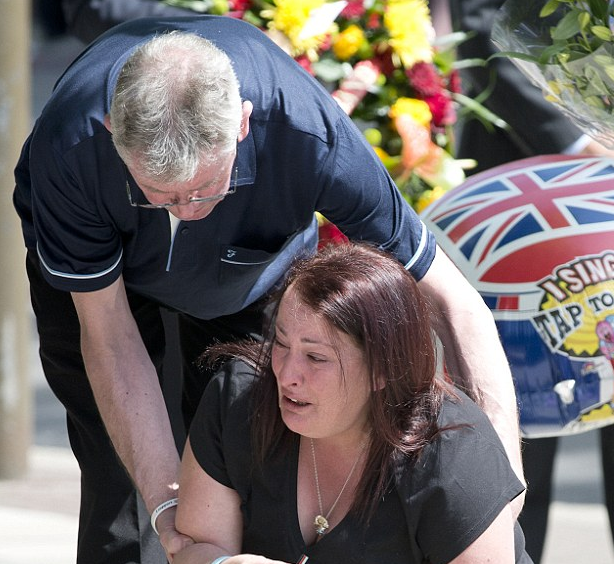 Outpouring of grief from Lee's family and the British public
A Prison Service spokesperson said the Metropolitan police was continuing to investigate the incidentadding "it would be inappropriate to comment while the investigation is ongoing." A Ministry of Justice spokesman challenged the claims that Adebolajo was not offered immediate medical attention, saying that a doctor attended and that the "prisoner refused medical treatment initially but was subsequently treated by healthcare staff".
The Prison Officers Association (POA) has denied any wrongdoing by officers, saying a prisoner was restrained using approved techniques. The POA has also criticised the MoJ for failing to take action to stop "sensationalist reporting" of the incident.
Peter McParlin, chairman of the POA, told BBC Radio 4's Today programme, that members had said they had done nothing wrong. "Some people have the idea that somehow it's a sitcom like Porridge. I'm afraid the reality of the modern prison system is far different from that," he said.
Adebolajo, from Romford, east London, is accused of hacking Rigby to death near Woolwich barracks in south-east London on 22 May. Michael Adebowale, 22, from Greenwich, has been accused alongside him with the trial due to start in November. Adebolajo faces further charges related to the attempted murder of two police officers and possession of a firearm with intent to cause others to believe violence would be used.
The murder of Rigby, a machine gunner and ceremonial drummer with the 2nd Battalion the Royal Regiment of Fusiliers, prompted a wave of anti-Islamophobic incidents including a number of attacks against mosques. Two Ukrainian men are being held after a suspected campaign of bomb attacks against mosques in the West Midlands. One of the men was arrested on suspicion of murdering a 75-year-old Asian man, Mohammed Saleem, on 29 April. West Midlands police said the terror suspect, aged 25, was arrested in relation to "a further act of terrorism".
As the security services widen their search for the explosive-makers, West Midlands police made a handful of arrests after bottles, cans and other missiles were hurled at officers during an English Defence League rally in Birmingham.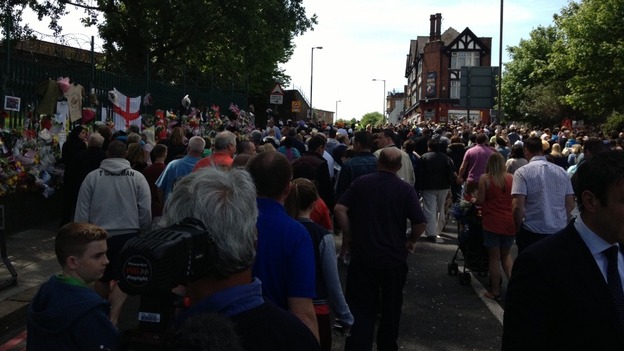 The English Defence League ( file photograph )
More than 1,000 officers policed the operation which at one point saw police showered with broken glass, pieces of slate and other objects after EDL supporters, some wearing balaclavas, confronted police in the city centre.
What the fck did the b..tard expect?? - 'It' deserves everything 'it' gets and MORE!! - Fx