Post by Focus on Jul 28, 2013 11:21:48 GMT
British troops have carried out a major operation in an area of Afghanistan which has seen some of the fiercest battles of the war, the Ministry of Defence has said.
About 80 British soldiers travelled to Sangin to fight Taliban insurgents with the Afghan National Army (ANA), just months before it takes full control of security in the country.
The latest mission, which was kept secret until after it was completed earlier this week, required the special permission of defence secretary Philip Hammond because of a government push to transfer combat operations to the ANA.
Battle : Afghan National Army joined the British troops in the fighting in Sangin earlier this week
In recent months the British Armed Forces have instead been focusing on mentoring the Afghan National Army in preparation for their withdrawal from the country next year.
The MoD said specialist advisers from the Brigade Advisory Group, made up of the 4th Battalion The Rifles, provided support to the UK-mentored 3/215 Brigade for the eight-day mission.
It said the involvement of British troops was 'in line' with their current advisory role.
'In support of the Afghan forces who now have the security lead across the country, UK personnel do on occasion operate outside the usual UK area of operations in central Helmand in an advisory capacity, ' the Ministry of Defence said in a statement.
Fierce : Sangin (pictured) has seen some of the worst fighting of the war in Afghanistan
'These out-of-area operations have been a long-standing element of the UK mission in Afghanistan and are completely in line with our current role of providing training, advice and assistance to the Afghan National Security Forces.'
The statement added that Sangin 'remains a challenging area' and it is now for the Afghan forces to deal with insurgents.
During the operation, a number of insurgents were detained and killed, more than 30 improvised explosive devices were found and destroyed and two vehicles were seized along with ammunition and weapons.
There were no British causalities but a number of ANA soldiers were killed.
Troops : During the operation, a number of insurgents were detained and killed and more than 30 improvised explosive devices were found (Stock image)
Brigadier Rupert Jones, Commander Task Force Helmand, said: 'We have known for some considerable time that 3/215 Brigade of the Afghan National Army, who Task Force Helmand has operated with for many years, is a highly effective fighting formation. Through the summer they have just got better and better as ISAF have stepped back further.
'However, operating in Sangin over the past week, they have moved to another level of performance and independence.
'Everyone who witnessed them has been in awe of the manner in which they cleared the insurgents from well defended positions with integrated fire support, manoeuvre, reserves and strong tactics.
'They have operated virtually independently, requiring the Task Force Helmand advisors from 4 RIFLES for little more than casualty evacuation.
'It has been a very impressive demonstration of what the Afghan National Army can be capable of.'
TWELVE YEARS OF HELL: A HISTORY OF THE WAR IN AFGHANISTAN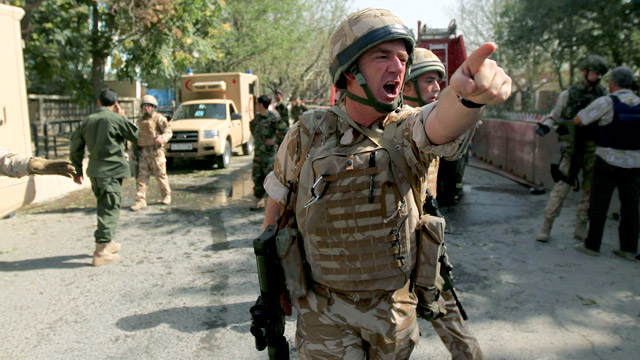 There are plans to withdraw troops by the end of 2014
2001 October – September 11 attacks lead to US bombing of Afghanistan. Anti-Taliban forces soon enter Kabul.
2002 January – A Nato-led International Security Assistance Force (ISAF) enters the country - marking the start of a fight against the Taliban.
2003 August – Nato now controls security in Kabul.
2005 September - Afghans vote in first parliamentary elections in more than 30 years.
2006 October - Nato takes over security for the whole of Afghanistan, being led by a coalition force.
2008 September - US President George Bush sends an extra 4,500 US troops to Afghanistan.
2009 March - US President Barack Obama unveils new strategy for Afghanistan and Muslimstan as intends to help the Afghan army and police by sending 4,000 more personnel.
2010 November - Nato agrees to hand control of security to Afghan forces by end of 2014 at a Lisbon summit.
2011 November - President Karzai plans to negotiate a 10-year military partnership with the US. The proposed pact will see US troops remain after 2014.
2012 Socialist French President Francois Hollande says France will withdraw its troops by the end of 2012.
2012 The US hands over Bagram high-security jail to the Afghan government, but controls some foreign prisoners until March 2013.
2013 June - Afghan army takes command of all military and security operations from Nato forces.
2013 Washington announces it plans to hold direct talks with the Taliban, forcing President Karzai to suspend security talks with the US.
As always your country is proud of you, our troops and our heroes!! - Fx