Post by Focus on Aug 7, 2013 10:58:30 GMT
A senior UKIP politician has been rebuked after telling activists that Britain should not be sending aid to 'bongo bongo land'.
Godfrey Bloom, a UKIP member of the European Parliament, suggested foreigners used aid to 'buy Ray-Ban sunglasses' and 'apartments in Paris'.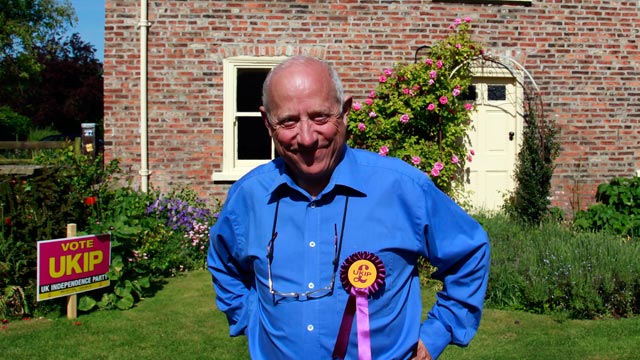 Under fire : UKIP member Godfrey Bloom was recorded suggesting countries receiving foreign aid sue it to buy 'sunglasses' and 'apartments in Paris'
As a political storm grew over the remarks, he remained defiant, insisting he was standing up for 'ordinary people'.
But today UKIP chairman Steve Crowther said: 'We are asking Godfrey not to use this phrase again as it might be considered disparaging by members from other countries.
'However, foreign aid is an extremely important debate that needs wider discussion.'
Mr Bloom's remarks emerged in the week his party is due to publish its list of approved candidates for next year's European elections – at which the party hopes to get the biggest share of the vote.
Asked what he would do if he was reprimanded, Mr Bloom told BBC Radio 4's Today programme: 'I'd say "Righto, sorry, sorry everybody".
'If I've offended anybody in bongo bongo land I shall write to the ambassador at the Court of St James's and apologize to him personally.'
In the recording leaked to The Guardian he says: 'How we can possibly be giving a billion pounds a month when we're in this sort of debt to bongo bongo land is completely beyond me.
'To buy Ray-Ban sunglasses, apartments in Paris, Ferraris and all the rest of it that goes with most of the foreign aid. F18s for Muslimstan. We need a new squadron of F18s. Who's got the squadrons? Muslimstan, where we send the money.'
Two months ago UKIP leader Nigel Farage ensured an Italian MEP was expelled from UKIP's European alliance for saying a black minister in Italy was part of a 'government of bongo bongo' who would want to impose 'tribal traditions', and would be better suited as a housekeeper.
Discipline : UKIP leader Nigel Farage is under pressure to take action against member Godfrey Bloom for his comments
Last night a UKIP spokesman said Mr Bloom's remarks were being 'discussed right at the very highest level of the party' while sources close to Mr Farage confirmed disciplinary action against Mr Bloom was being considered.
John Mann, Labour MP for Bassetlaw, said UKIP should 'throw him out and stop him standing as an MEP'.
A spokesman for the anti-racism Hope Not Hate campaign said Mr Bloom's remarks were reminiscent of the 'Tory party of 1985', when Alan Clark, former MP for Kensington and Chelsea, provoked outrage by referring to Africa as 'bongo bongo land' in an official meeting.
Laura Pidcock, from campaign group Show Racism the Red Card, said: 'What I can tell you is that in the classrooms that I visit as an anti-racism education worker, these crude stereotypes that see Britain as a civilised place and overseas as tribal is an extremely homogenizing sentiment and I think it's incredibly damaging.
'Actually he needs to understand that it is highly offensive and what he meant by it isn't important - it's the outcome that's important,' she told the BBC.
Mr Bloom has previously caused controversy over comments he made about women.
Controversy : Former Tory minister Alan Clark used the term 'bongo bongo' in 1985
The Yorkshire and North Lincolnshire MEP was criticized for asking why businesses would ever hire 'a lady of child-bearing age' and once joked that he wanted to get involved in women's rights issues because 'I just don't think they clean behind the fridge enough'.
In April a leaked email from Mr Bloom suggested he was concerned about excessive 'political correctness' among new recruits to UKIP.
He also complained that forging UKIP's policy platform was like 'herding cats' and suggested the party could buy its policies 'off the shelf' from think-tanks.
Earlier this week Tory strategist Lynton Crosby was accused of planning a campaign to expose UKIP members as 'extremists'.
It was suggested he wanted to launch a 'below-the-radar' operation to undermine UKIP politicians by catching them making embarrassing comments. This was denied by the Tories.
'Bongo Land' Comment Sparks UKIP Racism Row
GODFREY BLOOM : A MASTER OF COURTING CONTROVERSY
Godfrey Bloom has regularly courted controversy
Godfrey Bloom's use of the phrase 'bongo bongo' is not the first time his outspoken style has landed him in trouble, nor is it the most controversial.
A former economist, he was elected as an MEP
in 2004 and has been making headlines ever since with his views on women, climate change and Germans.
Soon after the Yorkshire and North Lincolnshire MEP was appointed to the European Parliament's Committee on Women's Rights and Gender Equality he declared that 'no self-respecting small businessman with a brain in the right place would ever employ a lady of child-bearing age'.
He added that he wanted to deal with women's issues because: 'I just don't think they clean behind the fridge enough.'
On climate change he once remarked: 'As far as I am concerned man-made global warming is nothing more than a hypothesis that hasn't got any basis in fact.'
The bowler-hat wearing 63-year-old also admitted visiting brothels and argued that instead of being exploited most prostitutes 'do it because they want to'.
In 2010 he was ejected from a Brussels debate after using the Nazi slogan 'Ein Volk, ein Reich, ein Führer' to insult German social democrat Martin Shulz.
It's a pity that all Ukip MEPs haven't got as much sense as Bloom, I think he may just get my vote! - Fx