Post by Focus on Mar 7, 2013 20:05:27 GMT
Argentina will try to limit the impact of the Falklands referendum on Sunday by instructing its embassies on how to counteract a British victory.


British soldiers pose with the Union Jack during the Falklands War
Héctor Timerman, the foreign minister, sent a cable to ambassadors explaining details of the vote, which he has branded illegal, and outlined instructions for responding to a probable adverse result for Argentina.
Around 1,800 eligible islanders are expected to choose overwhelmingly to remain an overseas British territory. In a 1986 referendum, 96 per cent of islanders voted for British sovereignty.
The cable, seen by La Nación newspaper, reveals the foreign ministry in Buenos Aires fears the referendum will divide the United Nations' 'decolonisation committee' where President Cristina Kirchner presented the Argentine claim last year.
It accuses Britain of trying to force Argentina into a "role of rejecting the wishes and desires of a people" and warns that the UK wants to "resolve the sovereignty dispute once and for all."
Ambassadors are urged to take steps personally before parliaments, foreign ministries and NGOs to reiterate the "illegitimate nature" of the referendum.
The Kirchner administration considers the dispute a bilateral issue and refuses to recognise the islanders. It claims they are "implanted" and ousted an Argentine population in 1833.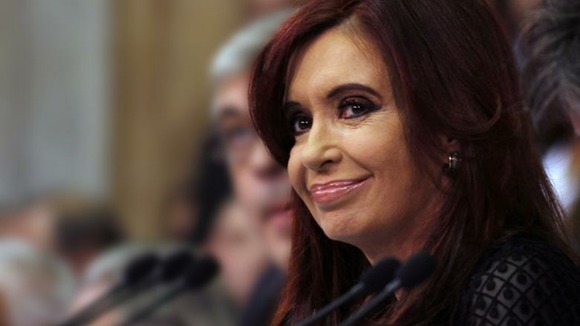 Cristina Fernández de Kirchne, Argentina's president
"We are very worried about the political impact of the referendum," a source close to Mr Timerman told La Nación. "But we'll take measures to act."
Jan Cheek, a member of the Falklands' Legistaltive Assembly, told The Daily Telegraph: "The referendum will be a very important expression of self-determination to the world."
Mr Timerman will also demand that South American union Unasur formally rejects the result as he seeks international backing. He will reportedly look for a similar rejection from Europe, the US, and countries in Africa and Asia.
In January, Argentine ambassadors around the world were told to ask their respective countries not to send officials to the referendum as international observers. Uruguayan politicians will oversee Sunday's vote while Peru will also send observers.
Argentina may also look to take its accusation that Britain is "militarising" the Falklands and South Atlantic to the UN Security Council, the cable says.
Mrs Kirchner has aggressively pursued the Argentine claim to the Falklands since 2010, when British companies began oil exploration in the region.
Earlier this week Alicia Castro, Argentina's ambassador to Britain, said her country would continue to press its claim to the Falklands despite the "illegal" referendum.
"This referendum in no way changes the essence of the Malvinas question and its predictable result will not bring an end to the dispute," she said -- When will the sour faced mare get it through her head that the Falkland Islands are and will remain British?? - I'm sure I speak for the Islanders too when I say " bugger orrfff out of it Kirchner you're not wanted!! ...
Fx